Welcome to the mystical world of Keibul Lamjao National Park, a unique and enchanting natural wonder located in the northeastern state of Manipur, India. If you're a nature enthusiast with a love for wetlands and endangered wildlife, this park is a must-visit destination. In this comprehensive guide, we embark on an extraordinary journey to uncover the historical significance, remarkable biodiversity, thrilling wildlife encounters, travel logistics, accommodations, and everything you need to know about Keibul Lamjao National Park.
A Glimpse into History
Before we dive into the captivating ecosystem of Keibul Lamjao National Park, let's take a step back in time to appreciate its historical significance. Established in 1977, this national park holds a unique place in the conservation history of India.
Floating Islands of Loktak Lake
One of the most intriguing features of this park is its floating phumdis, which are masses of vegetation, soil, and organic matter that float on the surface of Loktak Lake. These phumdis provide a distinctive habitat for various flora and fauna, including the endangered Sangai deer.
The Home of the Sangai Deer
Keibul Lamjao National Park is the last natural habitat of the Sangai deer, also known as the Manipur brow-antlered deer. This graceful and endangered species has become an iconic symbol of wildlife conservation in India.
Flourishing Flora
As you venture into Keibul Lamjao National Park, you'll find yourself immersed in a world of lush wetlands, floating meadows, and diverse plant life. The park boasts a stunning array of flora, including:
Unique Phumdis
The park's floating phumdis are composed of various plant species, including grasses, reeds, and aquatic plants. These phumdis serve as vital breeding and feeding grounds for the Sangai deer and other wildlife.
Water Lilies
Loktak Lake is renowned for its beautiful water lilies, which cover the lake's surface during the flowering season. The sight of these delicate blooms is a treat for the eyes and a testament to the park's natural beauty.
Aquatic Plants
The lake and wetlands support a variety of aquatic plants that play a crucial role in the park's ecosystem. These plants provide food and shelter for numerous aquatic species, making them an essential part of the food web.
The Enigmatic Fauna
The true treasures of Keibul Lamjao National Park are its charismatic fauna. The park is home to an impressive variety of wildlife, with a special focus on the Sangai deer. Here are some of the incredible creatures you might encounter during your visit:
The Sangai Deer
The Sangai deer is the park's most celebrated resident. With its distinctive antlers and graceful appearance, spotting a Sangai deer in its natural habitat is a rare and humbling experience.
Avian Wonders
Birdwatchers will be delighted by the park's avian diversity. Keibul Lamjao is a sanctuary for numerous bird species, including the Eastern Spot-billed Duck, and many species of migratory birds during the winter months.
Other Wildlife
The park is also home to other wildlife, including wild boars, leopards, and various species of snakes and amphibians. Exploring the park's diverse habitats provides opportunities for thrilling wildlife encounters.
Wildlife Encounters Await
Now that you've had a glimpse of the captivating inhabitants of Keibul Lamjao National Park, let's explore the thrilling wildlife experiences that await you in this pristine sanctuary.
Sangai Deer Watching
One of the main attractions of the park is Sangai deer watching. Guided safaris and treks take you through the park's floating meadows, providing an opportunity to spot these endangered creatures in their natural habitat.
Birdwatching Excursions
Birdwatchers can indulge in guided birdwatching excursions. The park's diverse landscapes provide the perfect backdrop for observing and photographing a wide range of bird species, both resident and migratory.
Boat Safaris
Explore the intricate waterways of Loktak Lake with boat safaris. These excursions offer a unique perspective on the park's wetland ecosystem and provide opportunities to see Sangai deer grazing on the floating meadows.
Getting There: Your Journey Begins
To embark on this extraordinary journey, you need to plan your route to Keibul Lamjao National Park. Here's how you can reach this pristine wetland:
By Air
The nearest airport to Keibul Lamjao National Park is Imphal International Airport in Manipur. From there, you can hire a taxi or take a bus to reach the park. The drive from the airport to the park offers scenic views of the Manipuri countryside.
By Rail
The nearest railway station to the park is Dimapur Railway Station in Nagaland, approximately 215 kilometers away. After arriving at the station, you can hire a taxi or take a bus to reach the park. The train journey to Dimapur provides glimpses of the northeastern landscapes.
By Road
If you prefer a road trip, you can drive or take a bus to reach Keibul Lamjao National Park. The park is well-connected by road to major cities in Manipur and neighboring states. The drive through the picturesque landscapes is an adventure in itself.
Where to Rest Your Weary Head
After a day of exploration, you'll want a comfortable place to relax. Keibul Lamjao National Park offers limited accommodation options, mainly in the form of guesthouses and eco-friendly retreats:
Forest Guesthouses
For a close-to-nature experience, consider staying at one of the forest guesthouses within the park. These accommodations offer basic amenities and a tranquil environment where you can immerse yourself in the wilderness.
Eco-friendly Retreats
There are eco-friendly retreats and nature camps near the park that provide a unique and immersive experience. Staying at these retreats allows you to connect with nature while minimizing your environmental impact.
Best Time to Visit
The best time to visit Keibul Lamjao National Park is during
the winter months, from November to March. The weather is pleasant, and wildlife sightings, especially of the Sangai deer, are more frequent during this period. Avoid visiting during the monsoon season (June to September) when heavy rains can flood the park's wetlands.
Unforgettable Experiences Await
Now that you've gathered all the practical information, let's delve into the experiences that will make your trip to Keibul Lamjao National Park truly unforgettable:
Sangai Deer Conservation
Learn about the remarkable efforts to conserve the Sangai deer and its fragile habitat. Your visit supports these conservation initiatives, and witnessing these efforts firsthand is a powerful experience.
Loktak Lake Sunset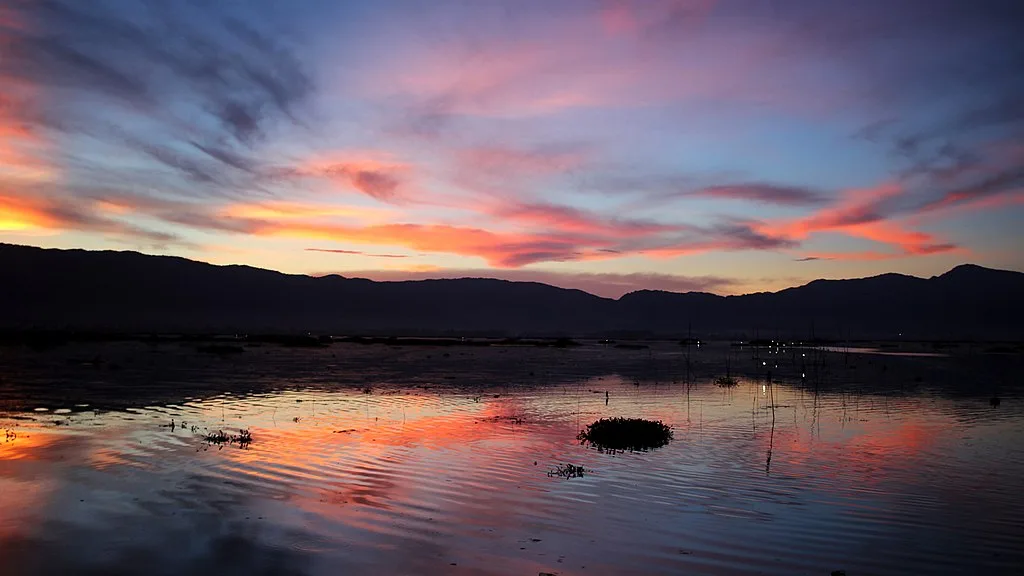 Don't miss the opportunity to witness a serene sunset over Loktak Lake. The changing colors of the sky mirrored in the calm waters create a breathtaking spectacle.
Bird Photography
If you're a photography enthusiast, Keibul Lamjao offers a wealth of opportunities for capturing stunning shots of both resident and migratory birds. Your lens can help raise awareness about the park's avian diversity.
Fascinating Trivia
Before we conclude our journey through Keibul Lamjao National Park, here are some fascinating trivia tidbits that will deepen your appreciation for this unique wetland sanctuary:
Keibul Lamjao National Park is the world's only floating national park, and it owes its existence to the floating phumdis of Loktak Lake.
The park's conservation efforts have successfully saved the Sangai deer from the brink of extinction, making it a symbol of hope for endangered species recovery.
Loktak Lake, where the park is located, is the largest freshwater lake in northeastern India and plays a vital role in the region's ecology and culture.
In conclusion, Keibul Lamjao National Park is a true gem of nature and wildlife conservation, offering a glimpse into the fragile beauty of Manipur's wetlands and the incredible story of the Sangai deer's survival. From its historical significance to its captivating flora and fauna, there's something for every nature enthusiast to cherish. So, pack your bags, plan your journey, and get ready for an adventure that will leave you with lasting memories of the floating jewel of Keibul Lamjao National Park.