Welcome to the Blue Flag beaches of India, where sun, sand, and sustainability intertwine in a remarkable union. Out of 4,000 Blue Flag beaches in the world only 12 beaches in India have been awarded with the certification. These beaches are not just ordinary vacation spots; they signify a harmonious balance between human enjoyment and environmental preservation.
Imagine walking along a shore that not only mesmerizes you with its beauty but also reassures you with its commitment to cleanliness. Blue Flag beaches are like nature's VIP lounges – they ensure top-notch water quality, eco-friendly practices, and safety for visitors.
Picture yourself basking in the sun on a stretch of sand that's not only a treat for your senses but also a sanctuary for local wildlife. These beaches stand as beacons of responsible tourism, where adventure and conservation coexist. The importance of Blue Flag certification goes beyond a mere label; it's a promise of a destination that cares for the environment, celebrates culture, and offers a memorable experience.
From the picturesque shores of distant lands to the coastal wonders in your own backyard, Blue Flag beaches set a standard for excellence that invites you to embrace the natural world while leaving footprints of respect.
So, get ready to dive into a world where beach holidays are not just about relaxation, but also about making a positive impact. Join us as we explore the Blue Flag beaches of India– a realm where every wave carries a message of environmental responsibility and every grain of sand tells a tale of sustainable paradise.
How is Blue Flag Certification Awarded?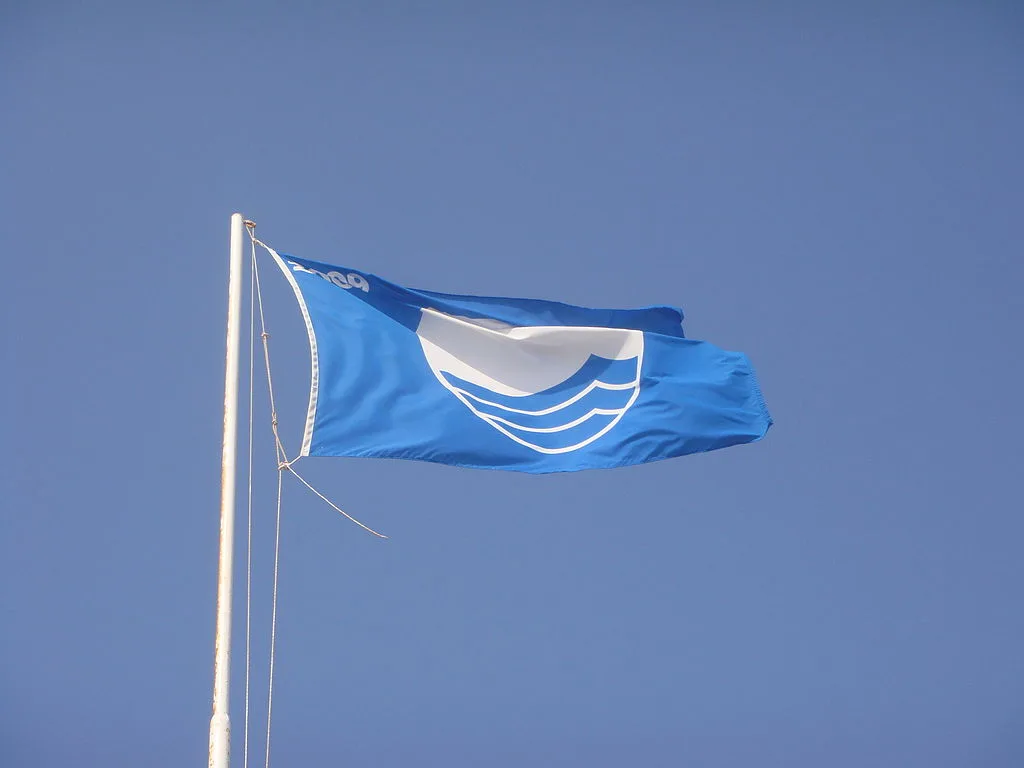 Earning the prestigious Blue Flag is no small feat! It's like a beach's journey through a series of challenging hurdles. Picture this: each potential Blue Flag beach needs to tick multiple boxes to prove its worthiness. It's not just about having a pretty shoreline; it's about meeting stringent criteria that encompass water quality, safety standards, environmental management, and more.
First, the beach submits an application, like sending an invitation to join an exclusive club. Then, it undergoes a rigorous assessment where trained inspectors give it a thorough once-over. They're like the Sherlock Holmes of the beach world, looking for clues of excellence in every grain of sand and drop of water.
These inspectors then compile a detailed report, sharing their findings and recommendations. It's as if they're crafting a treasure map, revealing the beach's hidden gems and potential pitfalls. This report goes to a national jury, a group of experts who huddle together like judges in a talent show. They review the report, evaluate the beach's performance, and decide whether it's ready to shine with a Blue Flag.
The Blue Flag isn't just a pretty piece of fabric; it's a beacon of responsible tourism and environmental stewardship. It's like a badge of honor that says, "This beach cares about its visitors and its environment." So, when you visit a Blue Flag beach, you're not just having fun in the sun – you're partaking in a journey of sustainable enjoyment, where nature's beauty and human efforts blend seamlessly.
List of Blue Flag Beaches of India
Here is the list of 12 beaches in India with their names and respective states/union territories that have received prestigious Blue Flag certification:
| Beach Name | Location |
| --- | --- |
| Eden Beach | Puducherry |
| Ghoghla Beach | Diu |
| Golden Beach | Odisha |
| Kappad Beach | Kerala |
| Kasarkod Beach | Karnataka |
| Kovalam Beach | Tamil Nadu |
| Padubidri Beach | Karnataka |
| Radhanagar Beach | Andaman and Nicobar |
| Rushikonda Beach | Andhra Pradesh |
| Shivrajpur Beach | Gujarat |
| Minicoy Thundi Beach | Lakshadweep |
| Kadmat Beach | Lakshadweep |
Note: The list represents 2023 Blue Flag Beaches of India
Details on Blue Flag Beaches of India
Eden Beach, Puducherry
Eden Beach in Puducherry is a coastal jewel that entices with its serene charm. The shimmering waters and soft sands are a canvas for relaxation and introspection. Feel the gentle breeze as you stroll, letting your worries ebb away with the waves. This is a place where the confluence of nature and tranquility creates a haven for weary souls.
Ghoghla Beach, Diu
Diu's Ghoghla Beach is a paradise where adventure meets relaxation. Imagine yourself windsurfing over azure waves, feeling the thrill of the sea beneath you. Or, simply lay back and soak in the sun's warm embrace. Ghoghla Beach is a canvas of experiences, painting memories that blend the excitement of water sports with the calmness of a beachside retreat.
Golden Beach, Odisha
Odisha's Golden Beach is where the sun and sand unite to create a masterpiece. The golden hues of the shoreline perfectly complement the azure expanse of the Bay of Bengal. As you walk along the shore, you'll discover the beach's connection to local culture and history. It's not just a beach; it's a story waiting to be told through every grain of sand.
Kappad Beach, Kerala
Kappad Beach in Kerala is a portal to history, welcoming you to a momentous event – Vasco da Gama's landing in 1498. The beach's tranquility carries a hint of nostalgia as if the whispers of the past still linger in the air. The blend of history and nature creates an ambiance where you can relax while feeling the weight of centuries gone by.
Kasarkod Beach, Karnataka
Kasarkod Beach in Karnataka is a retreat for the senses, a place where nature's symphony plays in the background. The rhythmic waves compose a melody that soothes the soul. This beach is an invitation to unwind and connect with nature. As you leave footprints in the sand, you'll also leave a piece of your heart behind.
Kovalam Beach, Tamil Nadu
Kovalam Beach in Tamil Nadu is a paradise for surfers and sun-seekers alike. The roaring waves beckon adventure, while the gentle tides offer relaxation. The vibrant atmosphere is like a festival of colors and cultures, where you can indulge in local flavors and experiences. Kovalam is where the sea becomes a playground and the beach a canvas of memories.
Padubidri Beach, Karnataka
Padubidri Beach in Karnataka is a serene escape where nature's beauty takes center stage. The tranquil waters and clean sands set the stage for quiet contemplation. Here, you can disconnect from the rush of daily life and connect with the rhythm of the waves. It's a reminder that sometimes, the best way to rejuvenate is to simply be.
Radhanagar Beach, Andaman and Nicobar
Radhanagar Beach in the Andaman and Nicobar Islands is a tropical dream come true. The pristine sands and turquoise waters create a postcard-perfect setting. This beach is a haven for those seeking solitude and serenity. As the sun dips below the horizon, painting the sky with hues of orange and pink, you'll find yourself lost in the beauty of the moment.
Rushikonda Beach, Andhra Pradesh
Rushikonda Beach in Andhra Pradesh is a paradise for water enthusiasts. Imagine riding the waves on a surfboard, feeling the thrill as you conquer the sea. The beach's energetic vibe resonates with adventure and camaraderie. It's a place where the sea's untamed spirit meets the determination of those who dare to ride its waves.
Shivrajpur Beach, Gujarat
Shivrajpur Beach in Gujarat is a hidden gem waiting to be discovered. The tranquil ambiance and clear waters offer a respite from the hustle and bustle of daily life. Walking along the shoreline, you'll feel the connection between earth and sea. It's a reminder that sometimes, the most beautiful moments are found in simplicity.
Minicoy Thundi Beach, Lakshadweep
Minicoy Thundi Beach in Lakshadweep is a paradise for those seeking solitude and solace. The untouched beauty of the beach invites you to disconnect from the world and reconnect with yourself. The gentle waves and swaying palms create an environment where time seems to stand still. It's a retreat for the soul, a place to find inner peace.
Kadmat Beach, Lakshadweep
Kadmat Beach in Lakshadweep is a piece of paradise where nature's wonders unfold in every direction. The turquoise waters and coral reefs make it a haven for snorkelers and marine enthusiasts. The beach's vibrant marine life is like a living underwater gallery, showcasing the beauty and diversity of the ocean. Kadmat is where the land and sea collaborate to create a symphony of colors and life.
In conclusion, these remarkable Blue Flag beaches from different corners of India offer more than just picturesque beauty – they encapsulate a commitment to environmental excellence and responsible tourism.
So, whether you're a nature enthusiast, an adventure seeker, or simply someone seeking solace by the sea, these Blue Flag beaches beckon you to explore, appreciate, and contribute to their ongoing journey of environmental stewardship. By visiting these coastal treasures, we become more than tourists; we become stewards of the environment, leaving behind footprints of respect and admiration for the intricate beauty of our world's coastlines.